October 10, 2019 12:01 am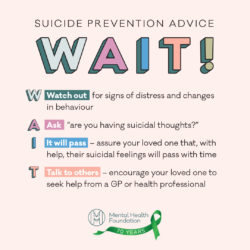 It is World Mental Health Day and this years theme is Suicide Prevention.
Many people who live with a mental health problem or are developing one try to keep their feelings hidden because they are afraid of other people's reactions. Many people feel troubled without having a diagnosed, or diagnosable, mental health problem – although that doesn't mean they aren't struggling to cope with daily life.
If you are concerned that you are developing a mental health problem you should seek the advice and support of your GP as a matter of priority.If you are in distress and need immediate help and are unable to see a GP, you should visit your local A&E.
Below are details on services and organisations that offer help and support directly to people who are experiencing mental health distress:
Samaritans -116 123 (call free)
Shout Crisis Text Line
For support in a crisis, Text Shout to 85258.
Shout can help with urgent issues such as:
Suicidal thoughts
Abuse or assault
Self-harm
Bullying
Relationship challenges
Rethink Mental Illness
You can call the Rethink advice and information line Monday to Friday, 10am-2pm for practical advice on:
Different types of therapy and medication
Benefits, debt, money issues
Police, courts, prison
Your rights under the Mental Health Act.
Call Rethink on 0300 5000 927 (calls are charged at your local rate).
Mind
Mind offer an information line to answer questions about:
Types of mental health problems
Where to get help
Drug and alternative treatments
Advocacy.
Call the Mind infoline on 0300 123 3393 (UK landline calls are charged at local rates, and charges from mobile phones will vary considerably). Alternatively, email info@mind.org.uk.
Tell someone you trust
You may find it helpful to talk to your partner, a relative or a friend about your problems. They may be concerned about you and welcome the opportunity to hear what you have to say. If this is not possible, you may prefer to talk to someone else you can trust, like a faith leader or a tutor.
Talk to your GP
Your GP may be the first person you talk to about your mental health problems. If you have a good relationship with your doctor, you may find it helpful just to know there is someone you can talk to about the feelings you are having. Your GP may refer you to specialist services if he/she feels they will help you. You can find information about talking to your GP about your mental health in our guide.
If you are unhappy with your own doctor, you can ask to see another doctor at the same practice or make an appointment with a different practice in your area. If you are unsure where to find other doctor's surgeries, look in your local Yellow Pages or try the NHS Choices website.
Specialist mental health services
Most people recover from mental health problems without needing to go into hospital. There are a number of specialist services that provide various treatments, including counselling and other talking treatments. You may also need help with other aspects of your life – for example, claiming benefits or dealing with housing problems. Often these different services are coordinated by a community mental health team (CMHT). If you live in supported accommodation, speak to staff, if you are having difficulties. They are there to help and support you.
CMHTs are usually based either at a hospital or a local community mental health centre. Some teams provide 24-hour services so that you can contact them in a crisis. If you are already in contact with a CMHT you may find it useful to keep their number by your phone in case you need it. Otherwise you should be able to contact your local CMHT via your local social services or social work team.