November 15, 2018 1:19 pm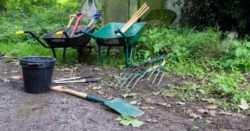 Come and volunteer with Grounded Ecotherapy, PRHA's Horticultural Therapy Project every Friday at Tower Hamlets Cemetery Park, a beautiful 31 acre Nature Reserve, right in the heart of East London.
Tower Hamlets Cemetery Park is where it all began. Join us in the woods for our weekly volunteering day to support the work of The Friends in the Cemetery Park. The Cemetery Park needs constant care and every Friday volunteers are welcome to drop in for all or part of the day, to help us carry out important tasks. Tower Hamlets Cemetery Park is a Local Nature Reserve and a great place to get involved in helping them care for the wildlife and plant life of the park.
We supply tea, coffee, all the tools and equipment. Please wear clothes which you don't mind getting dirty (Trousers, no shorts or leggings!), study shoes (no heels or slip-ons), and bring a packed lunch.
Joining Grounded Ecotherapy helps members who have suffered mental health, substance misuse issues or experience of homelessness, to get back on their feet. People improve their physical and mental health and well-being, by being outdoors, active and connected with others
Every Friday at Tower Hamlets Cemetery Park, Southern Grove, London E3 4PX
10am-3.30pm Meet at the Soanes Centre (Look for building with animals spray-painted on to it) Any queries, contact Michael on 07736 198408 or email groundedecotherapy@gmail.com