June 6, 2019 10:31 am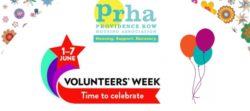 To celebrate Volunteers' Week, a national event that takes place 1-7 June annually we held a volunteer event to celebrate and say thank you to all our volunteers across our services and on the Board.
The event was held at Rich Mix, Bethnal Green and Fiona Humphrey, CEO presented awards and certificates. A special volunteer award was presented to Joe Searson, reception volunteer at Dellow who has volunteered for 27 years. A Long service award was presented to Peter Landman who has been running a music group at Heather Lodge for over 15 years. Staff spoke about their volunteers and how they had made a difference within PRHA.
The event was also a great opportunity for volunteers to meet each other and share their experiences and what they got out of volunteering.
An 'Appreciation Station' was on display with words of appreciation and thanks from staff members on their volunteers.
We had 23 attendees to the event consisting of staff and volunteers. It was an enjoyable, relaxed and inclusive afternoon with entertainment to end the day with a dance performance from 'Young and Talented', a local based drama school.