March 8, 2021 1:16 am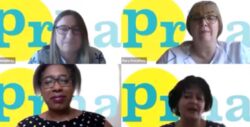 The PRHA 'all women' Senior Management Team would like to wish you all a happy International Womens Day 2021.
We celebrate the diversity and equality of our organisation and the achievements of women everywhere.
It's time to put an end to violence against women & girls, discrimination, stereotypes, stigma, silence and make women's rights and gender equality a reality.
#IWD2021 #ChooseToChallenge